We all know Greek mythologies work damn good at making books great for some mysterious reason . Look at Percy Jackson , for example ! But does it always work ? Not so much , I guess ..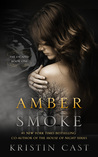 Amber Smoke by Kristin Cast
Rating: ★★★
Genre : Fantasy-Paranormal
Summary : 
There is a world that runs parallel to our own, a world in which the souls of the damned are caged, where they are looked over by the Furies, and where they spend eternity in torment, mirroring the devastation and mayhem they created when alive.
Someone has opened the cage.
The worst of terrors has crossed the barrier that separates our world from theirs, and the Furies send a great, albeit untested warrior—their only son, Alek—to try to bring those souls back. He is young and handsome, headstrong and impulsive, and he won't be able to do it alone. 
Eva has grown up, beautiful and beloved, but surrounded by secrets. First, she will be hunted in an ancient feud that will threaten her life. Then, she will become the hunter.
With the police closing in and two worlds on the verge of crumbling around them, Alek and Eva must find each other, discover the limits of their powers, and work together to save everything they hold dear, including one another. Blending elements of mythology with the dazzling storytelling that her fans have devoured through the House of Night series, Kristin Cast weaves a spellbinding and passionate tale that starts a thrilling new series with an explosive charge.
My Ramble 
I don't really know where to start about this book . You guys do know that anything Greek , Celtic or Indian always gets me right ? Any book that uses Greek myth as a base always turns out wonderful because Greek is magical ! So I'm just wondering what went wrong with this book….
So once upon a time , Maiden ( of Maiden , Mother and Crone ) fell in love with a mortal and her love brought a curse over their them and eternal hell itself . Now all 'evil' beings that are trapped in that black literal hellhole are coming out of it and this gives the furies chills …because the evil beings would harm us 'mortals' . To save the useless mortals and themselves , the furies ( the sisters ) train their only son to save their world .
What's wrong , then ?
Now that's all fine…it is just too cheesy ! I've been telling you I hate cheese all along and this book had an overdose of it . It's like too much for me to take in . And it's not just that . The characters were just ridiculous and un-connectable- t0 . Eva was stupid and I mean stupid enough make stupid people feel smarter . And Alek is a HUNK , but what next ? Erm…he's handsome ??
I definitely liked the mythical-sounding part of the book which is the first 20 or so pages but the rest of the book was totally on the 'okay ' to ' I hate this ' level .
Should you get it ? 
I don't really recommend it , but I've been narrating this story to my friends at school and they seem to think the story's good . So maybe , you should go for it if you're going to do some story-telling 🙂
---
I honestly believe myths do something awesome to books . And even with this book , the myth-ish way the book started off on was great and I solely believe it's all the myth's work at making the book even a little enjoyable . What do you think is one thing that works well on books ? Like instantly makes them likeable ?
---