Honestly ACOMAF is the best book in the whole series and I went into it knowing that something as perfect as ACOMAF is a hard hit , which means I was watching out for the most feared zombie of a sequel syndrome and praise me , yo all , I'm a seer because my predictions were more than just true !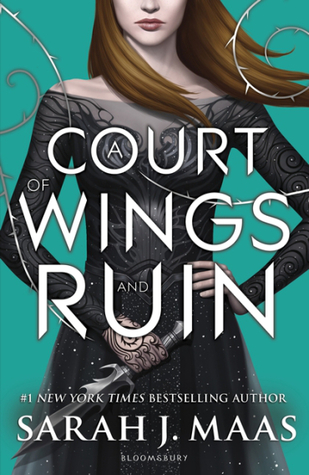 />A Court of Wings and Ruins by Sarah J Maas
Genre : Young Adult-Retelling
Rating : ★★★
Summary : 
Looming war threatens all Feyre holds dear in the third volume of the #1 New York Times bestselling A Court of Thorns and Roses series.
Feyre has returned to the Spring Court, determined to gather information on Tamlin's maneuverings and the invading king threatening to bring Prythian to its knees. But to do so she must play a deadly game of deceit-and one slip may spell doom not only for Feyre, but for her world as well.
As war bears down upon them all, Feyre must decide who to trust amongst the dazzling and lethal High Lords-and hunt for allies in unexpected places.
In this thrilling third book in the #1 New York Times bestselling series from Sarah J. Maas, the earth will be painted red as mighty armies grapple for power over the one thing that could destroy them all.
My Thoughts..
To say I hated ACOWAR would be wrong because I really love Rhysand and I can't find it my heart to hate something with him on it ! ( He's mine ! ) . And even ignoring Rhysand , I also enjoyed certain other parts , like the development of Feyre and Lucien's relationship . But that ends there . Maas dealt us all a huge blow with this book .
What's wrong ? 
Firstly , I think this book had a lot more pages than it should have .  Like I've got a lot of things to do than read a 700 pages full of content that can fit in a 300 pages . I don't understand why there were so many pages , like why ?  And the repetition also killed me . Rhys and Feyre keep calling each other Mate so many times that I wanted to bang my head somewhere.
I'm going to kill myself and tell it… Rhys was missing in this book . My Rhys was not there , you all ! I remember Rhys as the arrogant , cocky yet so cute bat boy and the Rhys in this book is ready to bow to Feyre ! There's nothing wrong with respecting each other's decisions , but giving up the reign entirely to Feyre is not something the Rhys I knew would have done .
Another killing shot , this book made sure I wasn't anticipating about books anymore . Remember all those speculations about what Amren was ? And while reading , about that mirror ? We don't see anything about Amren or the mirror and the descriptions were so vague that I wanted to throw the book at the wall . A light ball ? Really ? I waited for a ball of light to show up ??
The Characters 
Rhysand : My Boy friend who went missing with the ACOMAF . I would be grateful to anyone who'd help me find him back .
Feyre : That annoying girl who thinks she knows everything and is nothing like the sacrificing Aelin . ( I felt like killing her when she snapped at Rhys for her stupid sister )
Elain : The worst character Sarah has ever created because her meekness just kills me . I don't love Lucien , but he doesn't deserve THAT ! ( Was she supposed to be like Elide ? )
Nesta : Haha . Don't tell me she's cool . I hate her . She doesn't deserve redemption but Feyre's blind , so whatever . ( She literally said , ' why do something when there are others who'd do it ? ' . You still want to know why I hate her ? )
Cass and Az : I loved them both so much in ACOMAF and this book didn't do justice to them .
Tamlin : I'll admit I've never shipped Feylin , but I think Tam deserved redemption even more than Nesta did . I understand that what Tam did was despicable , but he did what he did to save Feyre ( or so he thought ) but Nesta didn't have a reason for anything she did .
Mor : I hate Sarah for Mor . I mean , Mor was one of the best characters and Sarah went out and killed the Mor was and put a clone in her place . Everything about Mor in this book was forced and I couldn't see the old Mor there .
There are a lot more I want to talk about…but I guess I spoiled enough .
Overall
I enjoyed this book but it didn't live up to the expectations . I do recommend it .
---
If you've read the book , what do you think of SJM's over used words and tropes ? Did you feel the characters that were missing ? 
---